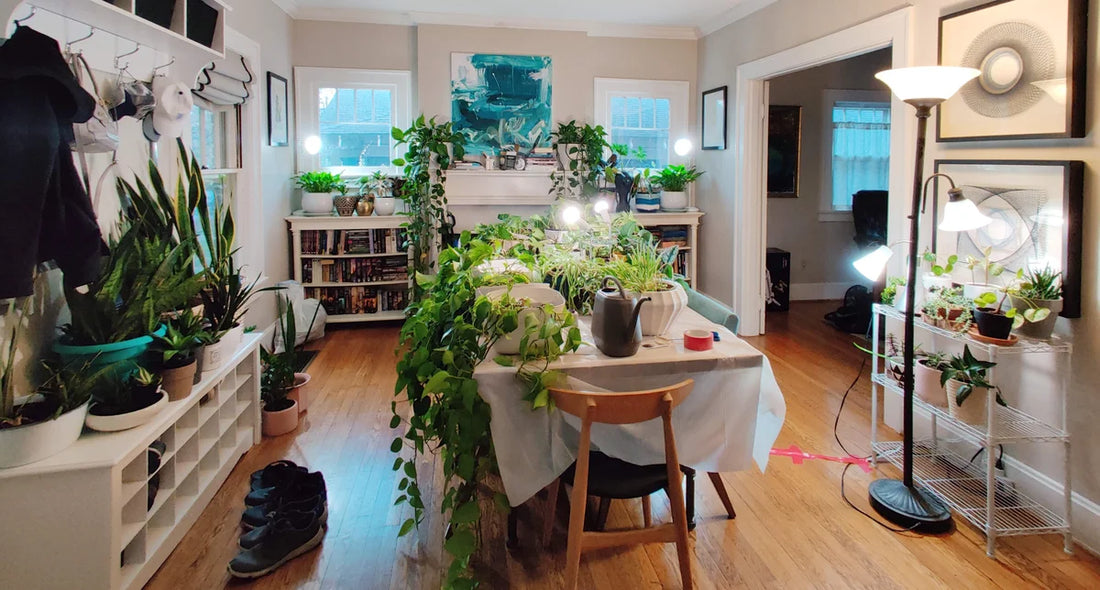 How to Prep Your Indoor Jungle For Extended Travel
This is a guest post from my friend Nikki @ Lipstick Latitude.

*This page contains affiliate links. If you choose to purchase after clicking a link, I may receive a commission at no extra cost to you.

It's a fact - one of the best things about plants is they don't require constant care. Forget about 'em for a week? No big deal. They'll thrive on a week or two of neglect. But if you're going to be away longer, well, that might take a little bit of planning. 

That was me last year. My husband and I decided to play digital nomad for a while, so our house was empty for about a month. When all the travel logistics were nailed down I realized we had a literal house-full of plants that would need a little maintenance. Luckily my favorite plant wizard (Kara is the wizard, in case that wasn't clear) agreed to check in on them, so I had zero worries about coming home to a dead jungle.

Gather everything up

If you're having a friend check in on your plants, try to gather them all into one or two areas. It makes things easier and eliminates the chance that something will get missed. For this vacation, we moved almost everything into the dining room and left the bigger plants next to a big window at the back of the house. Don't forget to put everything within easy reach (take down all those hanging plants!).

Also - mentally prepare yourself, because this exercise will show you EXACTLY how far your plant addiction has gone. In my defense, this collection included all of the plants from the house AND all the ones I brought home from my office at the start of the pandemic.

Add light where you need it

I'm betting a lot of you (like me) have greenery scattered all over the house because you have to follow the light. Unfortunately moving everything to the dining room put a lot of plants further away from the window than they really wanted to be. To make sure everything got enough 'sun' I set up lamps with full spectrum bulbs. 

Outlet timers are also incredibly handy to have. There are a lot of wifi-enabled light bulbs and power outlets out there, but in my opinion nothing beats the good ol' timer for being reliable and easy to set up. Just plug all your lamps into it, set up the schedule and your makeshift conservatory will have just the right number of daylight hours. 

Group them by care needs

This can be a big favor to ask if you've got a huge collection, but you can make things easier for your plant-sitter by grouping your plants by watering needs. No planning or guesswork needed on their part. All they have to do is show up and follow the instructions!

Leave instructions

Be sure to fertilize your plants before you leave. That way, all you plant-sitter needs to do is water them according to your schedule. I recommend leaving a card by each group of plants with instructions along the lines of "water every 7 days or when leaves get droopy" or "water every 14 days or when the top inch of soil is dry to the touch". 

Theory Beyond Design is all about making plant care easy, so you can download printable instruction cards here. 

Don't forget to say thanks!

The other best thing about plants - they're super easy to share. If you want to leave a little thank you present, just snip off some cuttings for your friend to take home with them. And maybe a half moon hanger or two if it turns out your collection runs into the triple digits!

And that's it! Just a little bit of advance planning will make sure your plants will be happy even if you have to step out for a bit.
What's Next?
Explore the myth of the green thumb
Learn what your plants say would say about you if they could talk
Simplify your plant collection with our featured propagation vases
about the author
Nikki is a 30-something blogger/IT professional/photographer living in central Kentucky with her husband Joseph. She is also a traveler, makeup enthusiast, tattoo collector, low-key foodie, yoga lover and dog snuggler. You can learn more about her and read some of her other posts here.