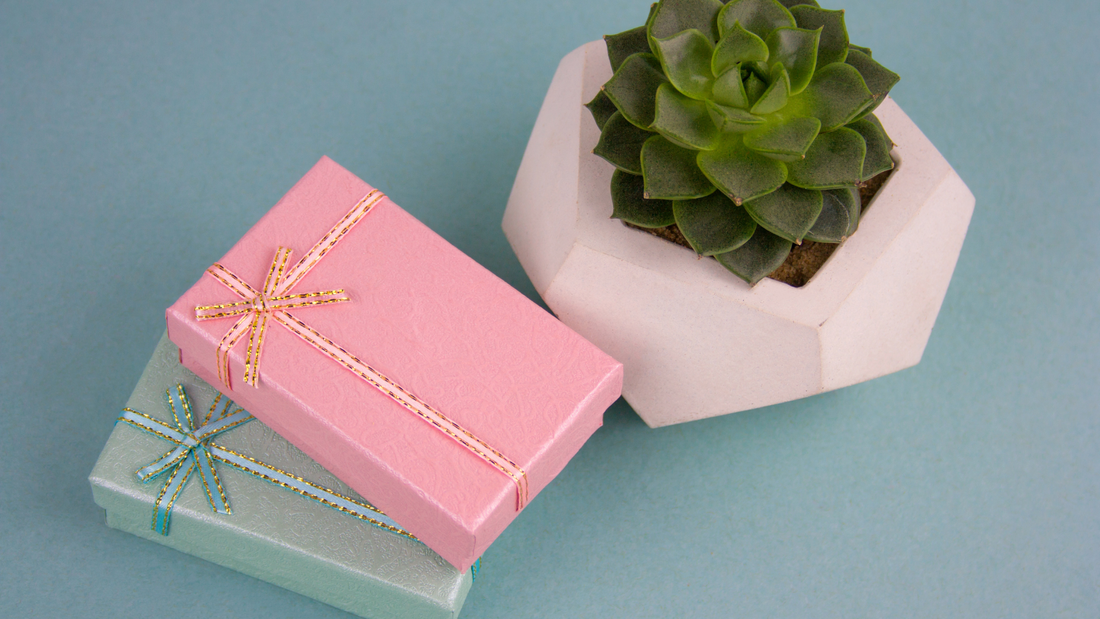 Plant Gift Ideas: The Dos and Don'ts of Plant Gifts for the Holidays
With the holiday season quickly approaching, it's time to start shopping for extra special gifts for the extra special people in our lives. The holidays are the perfect time to share your love for nature with thoughtful, personalized plant gifts.
Plant gifts are the perfect present for those nearest and dearest to us, lasting way beyond the festive season to bring the peace and serenity of the natural elements to the homes of your loved ones. And yet, while plant gifts are a thoughtful option for the plant lovers amongst us, there are certainly some things to ensure and avoid when buying a living gift for someone.
In the spirit of the gift-giving season, here are some plant gift dos and don'ts that will help you to choose well-thought-out gifts for the nearest and dearest in your life.
Do consider lifestyle
When it comes to gifting a real, living thing, think about lifestyle. Take a moment to consider the demands of the plant you're buying and whether it will be easy enough to care for.
If your loved one is new to plant parenthood or has a particularly busy lifestyle, they're unlikely to have the time to care for a high-maintenance plant like a fiddle-leaf fig. Don't lose hope, though, as there are plenty of low-maintenance plants to suit their busy lifestyle. These include succulents, money plants, and the old faithful, practically unkillable snake plant.
Don't overlook symbolism with plant gifts
Many cultures, religions, and traditions assign symbolic meanings to plants so it's worth keeping an open mind and choosing plant gifts that have positive associations.
Money Tree
Originally cultivated in Taiwan during the 1980s, Feng Shui practitioners hold the money tree in high esteem as a symbol of abundance, prosperity, and good luck. The money tree is thought to bring strength, power, richness, and good fortune.
Ferns
Another plant that survives neglect, ferns are said to represent endless love and thereby make a very thoughtful plant gift. Ferns have other meanings around the world; in Victorian England, ferns symbolized sincerity, in New Zealand, they epitomize new beginnings, and in Japan, they represent hope.
Do think long-term
A plant is for life, not just for the holidays. There's little more fulfilling in life than nurturing a seed into a flourishing living thing. Our plant propagation stands offer a rewarding and low-cost way for your loved ones to grow their plant collection. Handcrafted using the finest materials, Theory Beyond Design plant propagation stands are strikingly sophisticated and add a touch of style to any living space.
Our made-to-order collection is especially suited to plant gift-giving, showing your loved ones that they are ever in your thoughts. What's more, our bespoke plant propagation stands offer a convenient way to swap plants between friends and family and create a meaningful collection of plants that serves as a constant reminder of love and connection.
Don't forget furry friends
Remember, not all types of plants are safe to have in the house with furry friends. Many plants are poisonous and are dangerous to pets who are prone to nibble at interesting new things that enter their home. Plants to avoid gifting to friends with cats or dogs include the philodendron, monstera, peace lily, and pothos plant.
Do consider pre-potted plant gifts
Pre-potted plants are decorative and add a splash of color to any interior. Gifting a plant in a pot adds an extra special touch, showing that you have thought carefully and intentionally about their style, décor, and lifestyle when choosing their plant gift.
Don't forget space
When buying a plant for a loved one, it's easy to focus on the type of plant they might like and forget all about what type of plant would thrive the best under their care. Buying a plant that doesn't fit in their home or doesn't cope well in the lighting conditions may cause more stress than it's worth, leaving your friend feeling disappointed and disheartened that they couldn't keep your thoughtful plant gift alive.
Set your friends up for success as plant parents by considering where the plant will sit in their home and how it will fare in their home conditions.  
Plant Gifts
If your loved ones are already nature lovers, they'll likely be thrilled no matter your choice of plant gift. But no matter if they're new to plants or are certified plant propagation experts, spending a little extra time to choose the perfect plant gift will make for an extra special treat that will bring fond reminders of you way that last way beyond the holiday season.
What's Next?
Is it time to simplify your plant care routine? Find out.
Explore the myth of the green thumb
Simplify your plant collection with our featured propagation vases